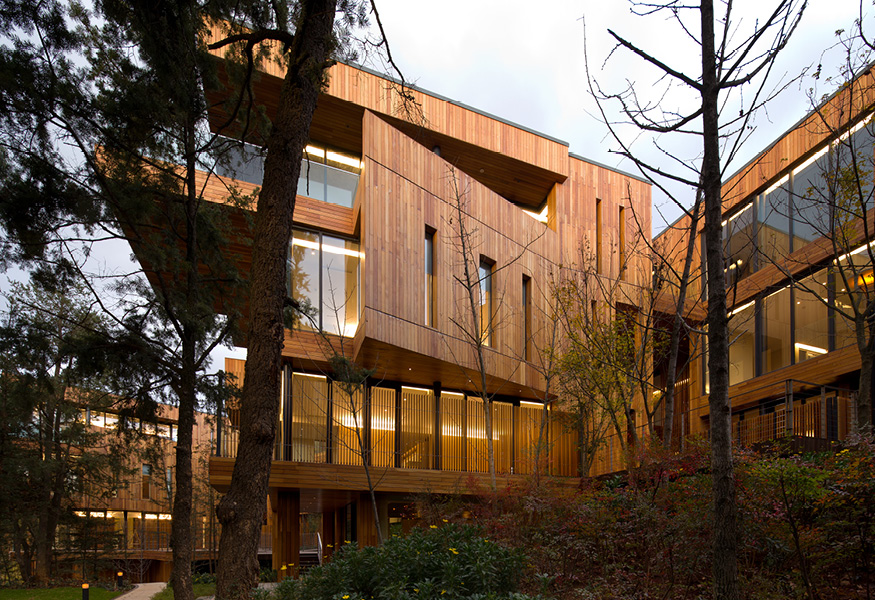 | | |
| --- | --- |
| Project | Innhouse, Kunming |
| Brief | Eco guesthouse in a cluster of four L-shaped structures on a forested hill |
| Date | 2011 |
| Location | EXPO Eco Town, Kunming |
Innhouse is set on a forested hill with sweeping views of a green valley and the Kunming cityscape. This eco guesthouse is conceived as a village for travelers, with 17 guest suites in a cluster of four L-shaped structures linked by natural trails and courtyards at varying levels. Densely landscaped with many retained trees, the timber-clad building with reconstituted bamboo decking is a simple arrangement of forms largely devoid of decoration. Each building unit is composed of three masses – two wings and a semi-opened vertical circulation unit – linked by a viewing bridge-corridor. Each guest suite reads as an extension of the landscape. Integrated with a cantilevered balcony, the living spaces open directly into the surrounding greenery.

With subtle lighting through a series of vertical windows, the more private bathroom end is behind a feature partition wall and forms a box within a box. Primary sustainable technologies applied include passive design to maximize day lighting and natural ventilation, site watershed conservation, solar thermal hot water, rainwater recycling and grey water reuse, a highly insulated envelope, reconstituted bamboo with low embodied energy, habitat preservation and intelligent building control. The project is the latest in a series of projects in Kunming by Oval Partnership aimed at raising aspirations for environmentally sensitive design and establishing a benchmark for future development in the region.