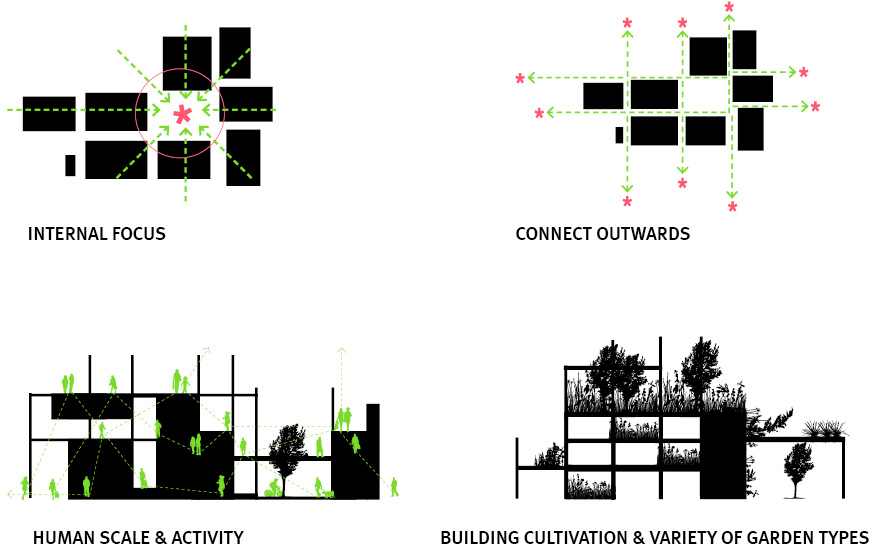 | | |
| --- | --- |
| Project | Industrial Meadow |
| Size | 222,000 sqm |
| Brief | Sowing the seeds for an innovative technological hub |
| Date | 2013 |
| Location | Shenzhen, China |
In European culture flower-rich meadows (grassland left to grow unchecked so it can be used for hay) are often associated with good times, and the pleasures of variety and diversity. In China the association is perhaps more with the freedom and open space of the high grasslands of the Chinese interior. Our proposal for a 'new industrial meadow' adopts an open and permeable urban pattern within a layout focused on a central 'meadow'. Pedestrian streets, bridges, walkways and rooftop terrace gardens thread through the development, always connecting back to the central meadow.

The proposed design recreates open streets and squares but is in fact a single structure built at one time with continuous, connecting levels of basement across the whole site. Therefore, rather than pretend this is a grouping of discrete buildings, we embrace the fact that it is a series of enclosed, semi-enclosed and covered spaces within a contiguous but partial inhabited concrete-frame matrix.

Overlaid on this would be a secondary layer of infill: predominantly steel panels, insulation, glazing and waterproofing, and a tertiary layer of 'bolt- ons': sun-shading, canopies, planters, trellising for plants. Much of this third layer would be constructed in engineered bamboo.