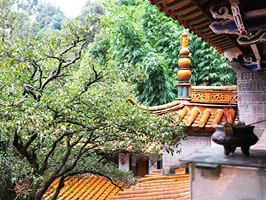 | | |
| --- | --- |
| Project | Fuxian Lake resort master plan |
| Brief | ecologically sensitive feasibility study and master plan |
| Date | 2013-ongoing |
| Location | Chengjiang, Fuxian Lake, Yunnan |
The important nature reserve of Fuxian Lake in Yunnan Province, China, offers a great opportunity for leisure and tourist related development provided this is done in a way that protects, and indeed restores, the fragile natural ecology of the area. In fact the right kind of development could be the key to the long term protection of this important national asset. The site is within easy reach of Kunming, with terraced slopes set against a backdrop of steep, misty hills, facing water.

After extensive site analysis we came to the conclusion that if the site as a whole is to support a financially viable quantum of development and yet retain the qualities that make it attractive in the first place a large amount of that development should be alongside the lake. This at first seems counter-intuitive as it is the lake that is the focus of environmental protection. However, closer examination of the landform of the site suggests ways by which this development could be both visually unobtrusive, and not damaging to the fragile Fuxian Lake ecology, whilst minimizing visual intrusion into the hillside backdrop, which is in effect the theatrical scenery that creates the setting for the lake.